Lockout / Tag-out Systems: What is Lockout / Tag-out?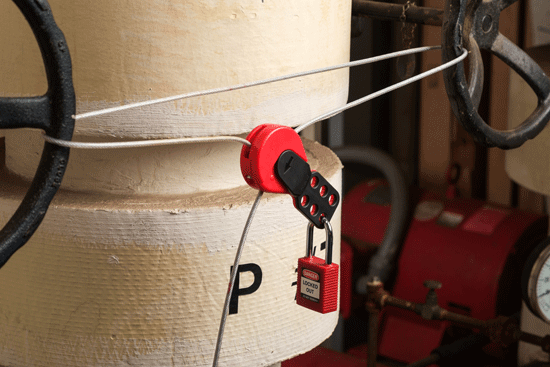 Lockout/Tag-out (LOTO) is a planned and important safety measure that protects your employees from electrical and mechanical hazards. It involves switching off energy sources on machines and equipment while necessary maintenance or repair work is being carried out.
The advantages at a glance:
Increased workplace safety
Reduction of injury-related and indirect costs
Less downtime
Through the targeted use of Lockout/Tag-out, you improve workplace safety in your company and reduce the number of workplace accidents. A well-organised Lockout/Tag-out programme reduces downtime, makes the maintenance process more efficient and guarantees the elimination of time-consuming inspection tasks.
System types
There is a wide range of Lockout/Tag-out products and tools available. Our partner BRADY is the market leader in lockout systems and tag-out products, which means we can offer you a comprehensive range. We are sure to find the perfect solution for your individual needs!
For a better overview, the products can be roughly differentiated as follows:
Padlocks: These include safety locks, brass locks and non-conductive locks.
Lockout devices: These include universal valve lockouts and a wide variety of switch lockouts, for example for circuit breakers, mushroom pushbuttons, emergency stop switches.
Tag-out: This is the marking of the shut-off point, from which it should be clear by whom, when and why the point in question was shut off.
Locking boxes and lock stations: Are used for the clear storage of LOTO products (shadow boards).
The cloud-based software LINK360TM: This can be used to create, scale, update and validate visual instructions for security procedures.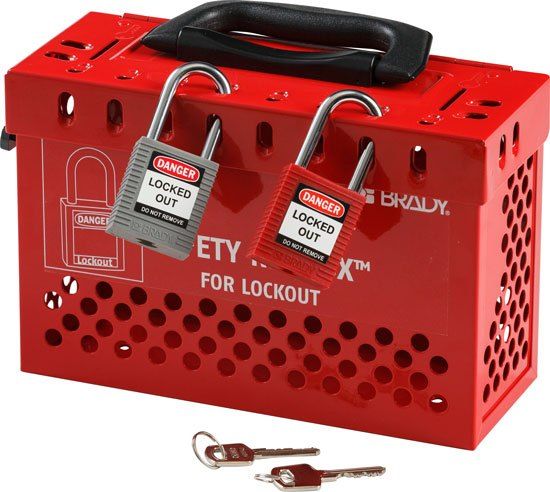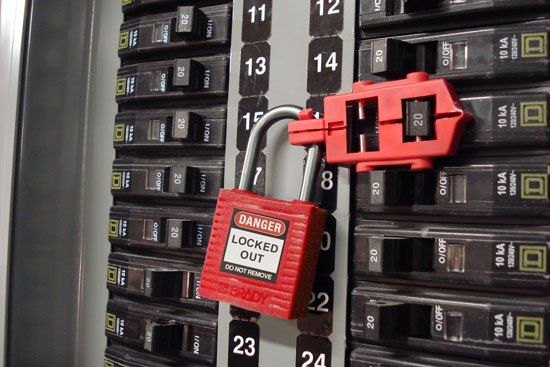 Regulatory requirements
Companies are subject to and must ensure compliance with country-specific occupational health and safety legislation. The implementation of lockout / tag-out is already required by law in many EU countries and is considered the best practice across the EU.
In Germany, for example, the Industrial Safety Ordinance stipulates that all command devices must be arranged, procured or secured in such a way that unintentional actuation is prevented in all cases. Austrian companies are subject, among other things, to the Work Equipment Ordinance, which provides for the protection of workers when using work equipment. The use of lockout/tag-out systems can make a significant contribution to occupational safety and support your company in complying with these regulations.
Lockout: mechanical hazards
Mechanical hazards are mostly caused by moving machine parts, drives and workpieces. Benefit from our user-friendly and versatile devices that reliably protect you from mechanical hazards.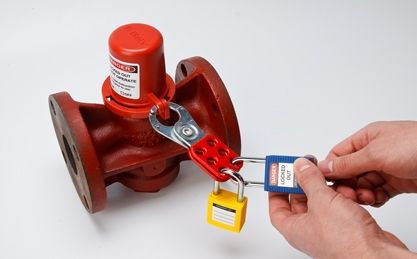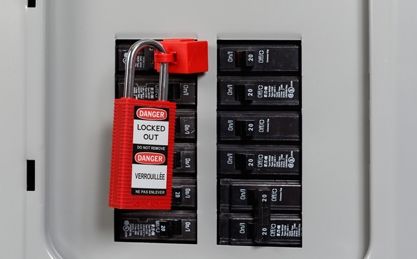 Lockout: electrical hazards
Electrical current is a hazard that can neither be seen, smelled nor heard. It is difficult to detect, but with our safe and effective methods, you can protect your employees from these dangers. Because lockout, i.e. interlock systems, provide more safety. For example, during maintenance or cleaning work, this is crucial for the well-being of employees. The visible device gives a clear indication of the lockout and can thus prevent damage.
Tag-out: safety tag
Tag-out is the term used for the conspicuous marking on lockout devices that indicates machines and equipment that have been switched off. Maintenance tags and stickers with appropriate warning notices are suitable for this purpose. Our tag-out systems are the best way to prevent machines from being switched on again during maintenance and servicing work, as our products are user-friendly and easily recognisable for your employees We offer a wide range of padlocks, lockout labels, tags or complete sets to be optimally there for you in any situation.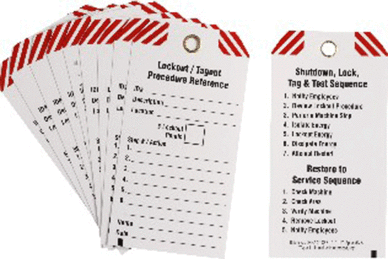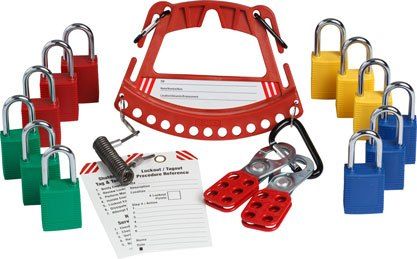 Locks and locking bars
Whether electric or mechanical, padlocks and hasps provide increased security with easier control in the company. Optimally, these security measures are light and compact, as this facilitates their use in versatile applications. Complementary accessories should not be omitted, as they optimise the security process.
We offer a wide range of different padlocks, hasps and related products and would be happy to advise you.
Safety control systems
Proper safety signage makes work safer and maximises productivity. We provide the safety marking and information signage you need. Just select a category below that fits your application.
Barrier and marking systems
Logistical marking
Pipe and valve marking
Sign printers
Safety signage
Software for safety marking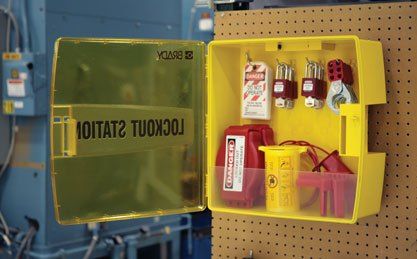 Accessories
It is not always easy to distinguish between accessories and essential components.
"Every 15 seconds, an employee dies, and 160 other people suffer an occupational injury." (Intern. Labour Organisation, 2015). Lack of employee safety and cutting corners in the wrong place have serious long-term consequences. No matter the industry, health is the most important asset, for your business and your employees.
And for the right maintenance safety products or lockout/ tag-out (LOTO), you also need the right accessories to better protect your employees from danger.
Shadow board lockers
Order is an essential building block when it comes to improving your organisation. Shadow boards help you organise your lockout / tag-out devices, lockout devices and padlocks and are essential to improving your quality management. Shadow boards indicate with their outlines which accessories are to be stored where and ensure that employees immediately recognise the absence of tools, lockout devices and accessories.
We make custom shadow boards to fit your exact needs!
Advantages and practice
Ensure optimal, material-friendly and organised storage of your shut-off devices, tools and accessories, so that your employees have the tools they need quickly and easily at hand and can quickly switch off power sources if necessary.
The advantages of shadow boards are summarised at a glance:
Order in the workplace
Fewer accidents at work
Reduction of non-productive activities
Optimisation of work processes
Optimise the provision of lockout devices and padlocks and support access control systems, lockout / tag-out and maintenance projects with the help of our shadow boards.